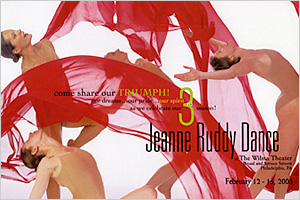 2003 Season Mailer
Wilma Theater
Feb. 12, 2003, 7:30
Feb 13, 14, 15, 2003, 8:00
Feb 12, 2003 - Opening Night
Chopin Nocturnal

Inspired by the images of Degas' Dancers, coincides with the Philadelphia Art Museum's Degas and the Dance exhibition

Choreography: Mark Dendy
Costume Design: Charlotte Cloe Fox

Significant Soil (see below)

The System (see below)

Voices and Echoes (see below)
Feb 13 and 15th Program
Voices and Echoes (1999)

Four dancers, neo classicial string quartet, sacred lifelong relationships among women who see each other through advertisity and good fortune

Choreography: Igal Perry
Original Score: John Mackey
Costume Design: Jeffrey Wirsing
Lighting Design: Peter J. Jakubowski
Dancers: Amanda Miller, Janet Pilla
Amanda Seidl, Christine Taylor
Musicians: Yi-Chun Chen (Cello), Solomya Ivakhiv (violin), Yconne Lam (violin), Sharon Wei (viola)

Significant Soil

(2000, 2003) premiere-Third Movement

Life takes on new meaning after faced with the possibility of death. It is here that the soul asks the deeper questions of purpose, of the meaning of one's life. It is the incredible gift of a reprieve from such an early sentence that one strives for a renewed life built on significant soil.

Choreography: Jeanne Ruddy
Music: Philip Glass, Violin Concerto, Second & Third Movements
Costume design: Jeffrey Wirsing
Lighting design: Peter J. Jakubowski
Performed by: Jeanne Ruddy, Renee Robinson-Buzby, Janet Pilla, Amanda Seidl, Darla Stanley, Christine Taylor

The System (2002)

Philadelphia Premiere 2003

multi layered duet incorporating original dance music, text and visual art

Choreography: Janet Lilly and Peter Sparling
Original Score: Frank Pahl
Visual Artist: Terry Rosenberg
Spoken Text: Charles Baxter
Costume Design: Alison Roberts
Lighting Design: Peter J. Jajubowski
Performed by: Jeanne Ruddy, Peter Sparling(Feb 12, 14 15)
Janet Pilla and Kip Martin (Feb 13)

Suite Reel - Philadelphia Premere 2003

eheberant dances that weave reels, jigs and howdowns with contemporary movements

Choreography: Jeanne Ruddy
Music: Live Barbershop Quartet, Soundchoice, Appalachian Bluegrass
Singers: Dean Crissy, Walter Evens, John L. Odhner, Jim Rohn
Costume Designer: Jeffrey Wirsing
Lighting Design: Peter J. Jakubowski
Soundtrack Design: Larry Sheridan
Viedo Projections: Primitive World Production
Performed by: Renee Robinson-Buzby, Mora-Amena Parker, Janet Pilla, Christine Taylor, Stephen Walsh
Feb 14 - Valentine's Day Program
Voices and Echoes (see above)

Enfold - Philadelphia Premiere: 2001

modern romantic duet

Choreography: Zvi Gotheiner
Music: Sarah Leander
Costume design: Alison Roberts
Lighting design: Peter J. Jakubowski
Performed by: Jeanne Ruddy and Donald T. Lunsford, II

The System(see above)

Suite Reel (see above)
---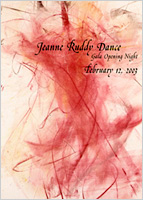 Opening Night Gala
(Drawing by Terry Rosenberg)
---
2003 Board of Directors
Jeanne Ruddy, Artistic Director
Kathryn Keeler President
Victor F. Keen Esq, Vice President/Treasurer
Amy Branch
Robert Brown
Lou Coffey
Gregory G. Gosfield
Susan Lazar
Verna Prentice
Joseph Salkowitz, DMD
Pearl B. Schaeffer
Dr. Robert J. Wallner
Jeanne Ruddy, Artistic Director
2003 Advisory Board
Steven Goff
Denise Jefferson
Stella Moore
Martha Myers
Igal Perry
Jill Porter
Susan Rock
Roslyne Paige Stein
Leslie Stiles
F. Randal Swartz
Janet Swartz
2003 Administration
Susan Fazio: Senior Administrative Director
Julia Been: Administrative Assistant
Yi-Chun Chen: Administrative Assistant
Ron Snitzer: Bookkeeper
2003 Independent Consultants
Bruce Makous: Capital Campaign
Nina Zucker and Associates: Press Relations
Caren Goldstine, Concept Factory: Graphic Design
Beth Emmott: Web design
Bob Emmott: Photography
Lynne Goldstein: Marketing
Kim Wolford, Routolo, Spewak & Co.: Accounts
2003 Funders
Independence Foundation
The Samuel S. Fels Fund
The Philadelphia Cultural Fund
The Dolfinger McMahon Foundation
The Harkness Foundation for Dance
Lincoln Financial Group Foundation
Pennsylvania Council on the Arts Entry Track program
---
Description:
Jeanne Ruddy Dance opened its third full-concert season with four original works and two world-premieres at The Wilma Theater in Philadelphia with great success.
The 2003 season featured a 20-year partner reunion between Jeanne Ruddy and Peter Sparling, former dancers of the Martha Graham Dance Company in The System, a work originally choreographed by Sparling and Janet Lilly. The concert also featured the premiere of the expanded Significant Soil, a piece Ruddy based on her experience as a breast cancer survivor with music by Philip Glass.
Guest Choreographer, Igal Perry, re-staged Voices and Echoes, a work made for the original four members of JRD in 1999, with a live string quartet from The Curtis Institute of Music playing an original score by John Mackey, Musical Director of The Parsons Company. In a special Valentine's Day performance, the company performed a romantic duet, Enfold, choreographed by Zvi Gotheiner, to the music of a '40s German cabaret singer.
Finally, in honor of the Degas show at the Philadelphia Museum of Art, Ruddy's company performed Chopin Nocturne inspired by Degas' images of dancers. The concert ended with Suite Reel, Ruddy's exploration of American themes of Barbershop and Bluegrass music expanded with additional video projections and a live Barbershop quartet onstage.
The Company also gave a special performance on Friday, February 14th at 11:00 a.m. to children of Laura Wheeler Waring Public School, The Masterman School and The William Penn Charter School.