Jeanne Ruddy's 11th Season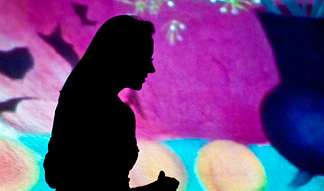 View MonTage à Trois Rehearsal Images
Pennsylvania Academy of the Fine Arts
April 14, 2011, 7:30 pm (Opening Night Gala)
April 15, 2011, 8:00 pm (post-performance talk with Ruddy, Osborne and Fishman-Johnson)
April 16, 2011, 8:00 pm
April 17, 2011, 2:00 pm
MonTage à Trois
Combining three elements: dance, music and painting and created specifically for the galleries of the Pennsylvannia Academy of the Fine Arts,
MonTage à Trois
is inspired by the Philadelphia International Festival of the Arts' theme, Paris 1910-1920. An era of innovation. Inspiration. Joie de vivre.
MonTage à Trois is comprised of twenty-two musical selections by Claude Debussy, Erik Satie and Igor Stravinsky paired with sixteen paintings and seven dancers.
Choreography: Jeanne Ruddy
Music: Claude Debussy, Erik Satie, Igor Stravinsky
Paintings: Elizabeth Osborne
Costume Design: Jeffrey Wirsing
Lighting Design: Peter J. Jakubowski
Video Design: Ellen Fishman-Johnson Performers: Rick Callendar, Melissa Chisena, Thayne Alexandar Dibble, Janet Pilla, Gabielle Revlock, Sean Rosswell, Christine Taylor
---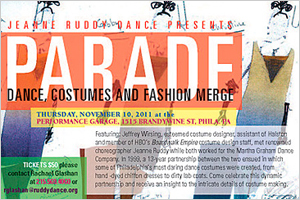 2011 Benefit:Parade, more info...
---
Board of Directors
Jeanne Ruddy, Artistic and Executive Director
Gregory G. Gosfield, Esq, President
Victor F. Keen Esq, Vice President/Treasurer
Kathryn Keeler President Emeritus
Floss Barer
Gordon Daniels
Jennifer Grady
Milli Lane-Berg
Robert J. Wallner, MD

Advisory Board
Mark Dendy
Eugene Lowery
Martha Myers
Igal Perry
Susan Rock
Roslyne Paige Stern
Leslie Stiles
F. Randal Swartz
Administration
Bryan Mutluk: Managing Director
Ron Snitzer: Financial Manager
Judy L. Williams: Rental Coordinator
Christen Zulli: Engagement Manager
Independent Consultants
Nina Zucker & Associates: Press Relations
Caren Goldstein, Concept Factory: Graphic design
Beth Emmott: Web Design
Bob Emmott: Photographer
Lynne Goldstein: Copy Writer
Michelle Hitz: Grant Writer
Sue Joseph, CPA, Haefele, Flanagan & Co, pc: Accounts
Funders
Dolfinger-McMahon Fund
Samuel S. Fels Fund
Lida Foundation
National Endowment for the Arts
William Penn Foundation
Pennsylvania Council on the Arts
Pennsylvania Department of Community & Economic Development
Philadelphia Cultural Alliance
Philadelphia International Festival of the Arts 2011
Suzanne F. Roberts Cultural Development Fund