Jeanne Ruddy's 10th Anniversary Season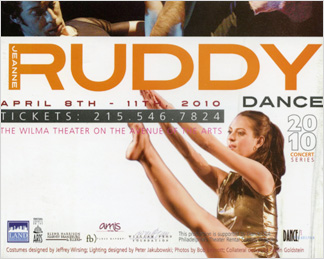 2010 Season Mailer
The Wilma Theater
April 8th, 2010, 7:30
April 9-10, 2010, 8:00
April 10-11, 2010, 3:00
2010 marks the Tenth Anniversary of Jeanne Ruddy Dance. Come celebrate a Decade of Dance as we present a retrospective of works by choreographer Jeanne Ruddy. These pieces will showcase the depth and range of the Company over the past ten years.
Significant Soil

... a personal story where life takes on new meaning after faced with the possibility of death.

Choreography: Jeanne Ruddy
Costumes: Jeffrey Wirsing
Lighting and Set Design: John Hoey
Music: Philip Glass Violin Concert
Performers: Melissa Chisena, Thayne Alexandar Dibble, Janet Pilla, Gabriella Revlock, Katharine Savage, Meredith Riley Stewart, Christine Taylor

Breathless

World premiere—2005—The Mandell Theater, Philadelphia
Reimaged with new score and choreography—April 10, 2008—Performance Garage, Philadelphia

In 1925, Theodore Dreiser published a novel centered around the drowning of an unmarried pregnant woman by the unborn child's father. He believed life offered him better prospects.

In 1996, a young unmarried Delaware woman was murdered and her body entombed on the ocean floor by her powerful, politically connected lover, who refused to permit her to end their affair. In 1997, a Philadelphia man drugged and strangled his wife (and mother of his young daughter) and placed her body in the bathtub, in order to collect insurance proceeds and continue to pursue a professional stripper. In 2002, a Californian fertilizer salesman murdered his pregnant wife and set her adrift in the San Francisco Bay, culminating a pattern of infidelity.

Breathless is informed and inspired by these stories. Spanning many months, the scenes include a pastoral lakeside, room interiors, an insurance company office and a stripper bar.

Choreography: Jeanne Ruddy
Music: Ellen Fishman-Johnson
Costume Design: Jeffrey Wirsing
Lighting Design: Peter J. Jakubowski
Photographic Projections: Bob Emmott
Video Projections: Jorge Cousineau
Soprano: Shannon Coulter
Performers: Meredith Riley Stewart, Hershel Deondre Horner III, Katharine Savage, Janet Pilla, Rick Callender, Ian Dodge, Gabrielle Revlock

LARK

... a high-spirited dance of lightness and elegance that explores the longing to connect with others.

Choreography: Jeanne Ruddy
Music: Ellen Fishman-Johnson
Costume Design: Jeffrey Wirsing
Lighting Design: Peter J. Jakubowski
Production Stage Manager: Peter J. Jakubowski
Video Production: Camella Vassor-Johnson
Wardrobe Mistress: Lorraine Anderson
Rehearsal Director: Christine Taylor
Hair Design: Ozzie Perez
Performeers: Rick Callender, Thayne Alexandar Dibble, Ian Dodge, Janet Pilla, Christine Taylor
---
Board of Directors
Jeanne Ruddy, Artistic and Executive Director
Gregory G. Gosfield, Esq, President
Victor F. Keen Esq, Vice President/Treasurer
Kathryn Keeler President Emeritus
Gordon Daniels
Jefferson M. Green
Milli Lane-Berg
Robert J. Wallner, MD
Advisory Board
Mark Dendy
Denise Jefferson
Eugene Lowery
Martha Myers
Igal Perry
Susan Rock
Pearl B. Schaeffer
Roslyne Paige Stern
Leslie Stiles
F. Randal Swartz
Lois Welk
Administration
Nicole Cavaliere, Managing Director
Ron Snitzer, Financial Manager
Rachel Iannotti, Marketing Manager
Judy L. Williams, Rental Coordinator
Independent Consultants
Nina Zucker and Associates: Press Relations
Lynne Goldstein, LCG Direct: Copy Writing
Caren Goldstein, Concept Factory: Graphic Design
Beth Emmott: Web Design
Bob Emmott: Photographer
Carmella Vassor-Johnson: Video Production
Kim Eolford, Ruotoio Spewak & Co: Accountants
Funders
The William Penn Foundation
Greater Philadelphia Cultural Alliance
The Phialdelphia Cultural Fund
Pennsylvania Cultural Fund
Suzanne F. Roberts Cultural Development Fund
The Samuel S. Fels Fund
The Dolfinger McMahon Foundation
Lida Foundation
Hassel Foundation
Dance USA/Philadelphia
HSBC Bank
Martha LaVelle-Williams Foundation
---
April 8, 2010 Opening Night premiered a Ten Year Retrospective film created by Beth Emmott.
April 9th performance followed by a Post-performance discussion with Jeanne Ruddy and composer Ellen Fishman-Johnson, moderated by Philadelphia Inquirer theater critic, Howard Shapiro.