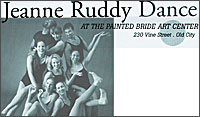 season invitation
Painted Bride - Nov 7-10, 2001
Dancers: Jeanne Ruddy, Karen Carlson, Holly, Colino, Donald T. Lunsford, Janet Pilla, Miko Doi Smith, Christine Taylor, Britta Heermann-Wynne, Stephen Walsh
Marie's Diary

Philadelphia Premiere

Three Stages of Marie Antoinette's Life, a dramatic contemporary classical work originally created by Ruddy in 1986, one year after she left Martha Graham Co.

Choreographer: Jeanne Ruddy
Live Accompaniment: Meng-Chieh Liu
Music: Olivier Messiaen
Costume Design: Christina Gianniani
Lighting Design: Peter J. Jakubowski
Dancer: Jeanne Ruddy

Suite Reel

World Premiere-2001

"Suite Reel celebrates America's rural past with a series of 10 quick sketches, accompanied by a versatile bluegrass/barbershop quartet ensemble. . ." -The Philadelphia Inquirer

Choreographer: Jeanne Ruddy
Music: Appalachian Bluegrass Music
Costume Design: Jeffrey Wirsing
Lighting Design: Peter J. Jakubowski
Musicians:

Lawrence Cohen, guitar and arrangments
William Dominick, fiddle
Beth Mead Sullivan, banjo
Jennie Heitler-Klevans, vocals
George Abramson, guitar and mandolin
Ray Duffy, guitar
Bill Hangley, guitar Joe Spinelli, bass

Enfold

Philadelphia Premiere-2001

Modern romantic duet

Choreographer: Zvi Gotheiner
Music: Zarah Leander
Costume Design: Alison Roberts
Lighting: Peter J. Jakubowski
Dancers: Jeanne Ruddy, Donald Lundford

No Fear of Flying—Second Leg

World Premiere-2001

No Fear of Flying incorporates a gestural vocabulary developed in collaboration with the dancers, along with the use of experimental use of text, movement, and dramatic characterization. The building of strong female characterizations and themes related to the "diva" are explored.

"...Irrepressibly crowd pleasing..." -The Philadelphia Inquirer

Choreographer: Mark Dendy
Costume Design: Charlotte Cloe Fox
Lighting: John Stephen Hoey
Music: Peggy Lee, Nancy Sinatra, and Australian Dijeridoo music


Four Screaming Women

Philadelphia Premiere

Four Screaming Women originally premiered the night the Equal Rights Amendment was defeated. Text and gestural movements and groundbreaking choreography by Jane Confort (described by the New York Times as "one of the most fertile minds in the genre...a post modernist pioneer.")

Choreographer/Text: Jane Comfort Lighting Designer: Peter J. Jakubowski
---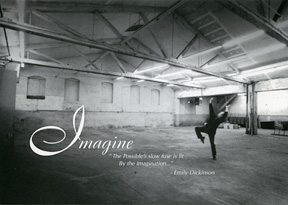 Imagine: Season Benefit
April 1, 2001
---
Board of Directors
Jeanne Ruddy: Artistic Director
Kathryn Keeler: President
Victor F. Keen, Esq.: Vice President
Gregory G. Gosfield, Esq: Treasurer
Kim Di Benedetto: Secretary
Amy Branch
Louis Coffey, Esq
Lisa C. Detwiler, Esq
Verna Prentice
Susan Rock
Joseph Salkowitz, DMD
---
Review by Deni Kasrel, City Paper
A few years ago, when Jeanne Ruddy Dance debuted, the company immediately stood apart from other dance ensembles based on the fact that all of its members were age 40 or more. At the time, Ruddy indicated she wanted to work with colleagues that shared a mutual maturity and mindset.
Now that the company has grown from four to eight, plus one apprentice, the age limit is lowered a bit, but the end goal remains the same. "It's not quite all over 40, though everybody's over 30, and it's still mature experienced performers," says Ruddy. The company director notes that regardless of age, those she chooses to work with have a strong stage presence and are "people who can put their own particular stamp on movement... I'm very interested in the humanity of the dancer as well as the technical brilliance and artistry." The new crew, Donald T. Lunsford II, Janet Pilla, Miko Doi Smith, Stephen Welsh, Britta Heermann-Wynne and Holly Colino, plus original members Karen Carlson and Christine Taylor, expressive movers all, clearly fit that bill.
JDR's program for an upcoming show at the Painted Bride presents something old; Marie's Diary—Three Stages of Marie Antoinette's Life, a dramatic contemporary classical work originally created by Ruddy in 1986, one year after she left Martha Graham Co., and something new; Suite Reel , a world premier "Americana piece that's very affirmative of some of our larger principles" set to live four-part harmony and Appalachian bluegrass music. There's a short romantic duet, along with two works of feminist bent, Mark Dendy's No Fear of Flying—Second Leg and Jane Comfort's Four Screaming Women, both of which concern women seeking their own voice and identity.
While Ruddy is enthusiastic about each of the pieces, she's particularly hyped about the 25-minute Suite Reel, which incorporates her vast dance studio experience and influences, from childhood days doing tap, through time with Jerome Robbins, Agnes DeMille and beyond. "It's an abstract treatment," she observes. "But it's going to be much more entertaining than you might think of as a modern dance... It's a mixture. A real soup."